Sax-o-phone and piano meeting in one chamber body is possible to define as a fusion of present and past.  Although sax-o-phone was invented in the forties of the 19th century it did not start its life fully until almost a hundred years later, and thehefore it became something like a symbol of accelerated nervous pulse of our times. On the contrary a piano evokes rather home sedentary and wise atmosphere with a coffee aroma and first-rate music. Connecting both seemingly opposite elements we can find ourselves in completely specified world of music, which will be able to tickle ironically, but also stroke easefully.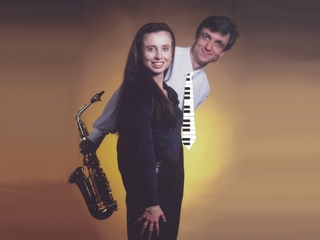 One of the first protagonists of this instrumental music is the Czech SAX & PIANO DUO which has been seen regularly on the Czech music scene since 1995. Both performers, Laura Vlková (piano) and Roman Fojtíček (sax-o-phone), belong to the outstanding Czech concert artists whose performance angle reflects a wide spectrum inside the ensemble as well as outside it.
In 1995 both artists founded unconventional SAX & PIANO DUO which brings original music as well as transcribed one. Very pleasant variation at their concerts are the moments when the duo "splits" into two individual subject and the artists perform their own instrument in a solo version. Another interesting dynamic elemement in their concerts is so-called introducing guests of the evening, mostly other instrumentalists or singers, who the artists revive their music program with. Repertory spectrum of SAX & PIANO DUO is very various and it ranges from late baroque up to works of the end of the 20th century including the last news.